A Pageant of Patterns for Needlepoint Canvas
by Sherlee Lantz, with diagrams by Maggie Lane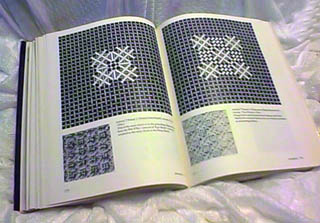 This is the biggest book of Needlepoint I have ever seen! It's 510 pages of every type of stitch imaginable. There are 351 stitch diagrams like the ones shown in the photo at right. For each stitch, there are instructions, a large detailed chart, and a photo of a finished sample. In addition to the 351 charted stitches, there are many more uncharted ones and variations of the charted stitches. There are also sections covering geometric pattern techniques, tools and materials, Hungarian point, samplers, and full-color photos of famous historial needlepoint pieces.
1977 hard cover, 510 pages, very very good condition (small tear on back of dust jacket or condition would be excellent), an absolute must-have for anyone interested in needlepoint!
High bidder to pre-pay plus actual shipping cost. Personal checks OK, but please allow time for check to clear. Happy bidding!